Crisp Chestnut Flatcakes – 板栗饼
– (Bǎn lì bǐng)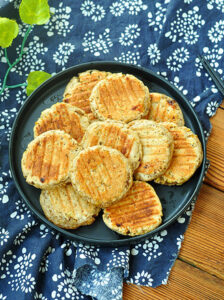 "Another year, another season of chestnuts is here once more. Chestnuts are rich in Vitamin C and minerals such as potassium, zinc, and iron, making them an ideal health foods. Today, we are going to try a very simple and original way to make chestnut cakes. Those who love chestnuts must try making this!"
Amount:
Makes one plate
 Ingredients:
| | |
| --- | --- |
| Chestnut Paste | 200g |
| Wheat Flour | 70g |
| Brown Sugar | 40g |
| Water | As needed |
| Oil | As needed |
Method (The numbers are according to the pictures in the original site):
Prepare the ingredients
Steam the chestnuts and pry them out of their shells and peel them. Place the cooked chestnuts into a ziplock bag and crush them with a rolling pin to make a paste
Stir the wheat flour into the chestnut puree
Stir the brown sugar with a little hot water to make a syrup. Pour the syrup into the flour and chestnut paste
Stir the mixture with a pair of chopsticks until it formed a moderately firm batter. Cover the batter up in plastic wrap and set aside to rest for 30 minutes.
Place a little oil on a non-stick pan and heat it up slowly. Drop a spoonful of chestnut batter onto the pan to make little pancakes. Cover the pan to encourage the cooking. After 1 minute, uncover the pan and flip the little flatcakes over.
The original recipe can be found at meishii, here you can find picture instructions for your convenience.
This recipe is mentioned in Strange World Cooking Saint, Chapter 113.
Have fun cooking and eating!